Take the stress out of your hardscape project!
Managing all the variables of hardscape design and installation can quickly become overwhelming. Have time to review hundreds of materials and products? Do you know what products work best together? Never mind the resources wasted planning and troubleshooting unproven designs!
---
I offer a selection of complete, DIY-friendly kits that save you time and money. All products are premium and chosen based on extensive experience. Kits come with all the materials you need, including glue. You only need simple tools. No special skills are required.
Choose from our affordable Outdoor Living kits to save time and money
We have a foolproof system. We constantly design kits that fit your needs and coordinate with each other. More importantly, we only offer options that perform great, look amazing, and are low maintenance. You won't be burdened by options with little value or dubious function. Thankfully, our color blends are timeless. They fit into their natural surroundings while coordinating with your home. Most important is that our kits are super simple to build. We pride ourselves on our easy step-by-step process for DIY enthusiasts. Therefore, you can complete most builds in a few hours for a grill-island to a weekend for a fireplace.
Choose from a full line of customizable Outdoor Fireplace Kits
---
Optional Add-ons for your Outdoor Fireplace Kit
Create the perfect setting for your outdoor paradise. No two backyards are identical. Certainly, no two families' needs are the same. Thus, we offer you tons of add-ons and options for you to configure your ultimate fireplace. Furthermore, all options are super simple to build and come with step-by-step instructions. Choose from these options or many more.
You have over 750 ways to make it Uniquely Yours
Combine Masterson Grill Stations in tons of ways with and without other add-ons and options. Choose from over 750 unique combinations to build a fireplace that is truly unique. All of our features, kits, and pieces are made to work together in an easy-to-build, easy-to-customize modular system that will help you achieve your ultimate backyard in less time using less money. By using our curated kits, you can know exactly how your outdoor living space will look before you buy. No more paper napkin plans. Choose our premium outdoor living kits and enjoy your dream backyard faster and cheaper than you thought possible.
---
Grill like a true Master Chef with a Grill Island Kit
The Masterson Grill Island line features grill stations that will become the cornerstone of your outdoor kitchen and yard. Importantly, Masterson Grill Islands offer a premium grill for professionals or an upgrade for passionate home chefs. Moreover, they are all made of top-quality materials with a thoughtful design. Indeed, they will last for decades.
Our complete building system gets results fast and easy
---
Designed to make kits easily
These blocks were specially designed to make hardscape features. These are not repurposed retaining wall blocks. This produces easy-to-make kits that save time. The wedge shapes help increase the bonding ability for a solid product built to last.
Random stone look
Our stones are produced with through-body colored concrete. Then they are tumbled to give them a naturally aged look. The three sizes of block can create seven different face sizes creating the randomly laid appearance of natural stones.
No mortar needed
There is no mess and mixing of mortar. Our kits are simply glued together. You squeeze special adhesive from a caulk gun. This makes construction and cleanup a breeze.
Upgrade your yard with our Unique Cottage Ruins Kits
---
Take the stress out of outdoor living and get your project underway immediately!
Relax. Outdoor living is easy. With our complete line of pre-designed kits, you can have the space of your dreams faster and easier than ever before. Choose one of our ready-made kits and start building with confidence. Obviously, each kit comes with a step-by-step instruction manual with illustrations. More importantly, each set of directions is thoughtfully presented in painstaking detail. Therefore, you only need to stack the blocks as shown in the illustrations and glue them together. We've thought out every detail, so you don't have to.
Cornerstone kits offer you many benefits
You have several options to choose from when deciding what and where to buy outdoor features for your backyard makeover. It is easy to get caught up in features and sizes, and prices. The decision can be daunting. But choosing an outdoor living solution doesn't have to be stressful. We want to make it easy for you. If you need any help, contact us. We're a small business that is easy to get in touch with and eager to help you with your project.
Cornerstone has brought the best people and products in the industry to design a comprehensive outdoor living suite that benefits you. We have analyzed the designs and features of fireplaces, ovens, and grills to bring you the best value on the market. Importantly, all our kits keep safety and best practices at the forefront of their designs. In addition, we have improved features where needed and removed anything that is high maintenance or unnecessary. As a result, we only offer tried and true designs that will be around for years to come.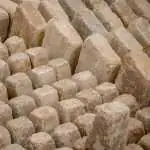 Top Quality
Designed to the highest measures using the best materials available. We build up to a standard, not down to a price point.
Easy to Build
Expertly designed so your mom could build it in a couple of days. Simple stack and glue construction is easy for beginners.
Safety First
Designed to be safe to build and safe to use. No large pieces in high places. Large hearth, mantle, and spark arrestor included for fire safety.
Great Value
Outdoor living will give you a high ROI while making your property more desirable. Build your kit yourself and save even more.